Notes:
Product Description
Belt conveyor, belt conveyor for conveying bulk density of less than 1.67 / t / cubic meter, easy to dig a powder, granular, small block of low-abrasive materials and bags of materials, such as coal, gravel, sand, cement, fertilizer, and grain. Sent material temperature is less than 60 °C. The form of their captain and assembly can be determined according to user requirements, transmission can be electric drum can also be used with a drive rack drive.
Belt Conveyor consists of a body of a metal frame with pulleys at either end and bed of rollers in between.Belt is looped around each pullies. When one of the belt is powered by electrical motor, the belting slides across the rollers there by moving the product on the top of the belt. We have technical capabilities to design, manufacture and commission belt conveyors with various bulk densities, moistures, atmospheric conditions and corrosive properties.We manufacture belt conveyors with capacities up to 800T/H.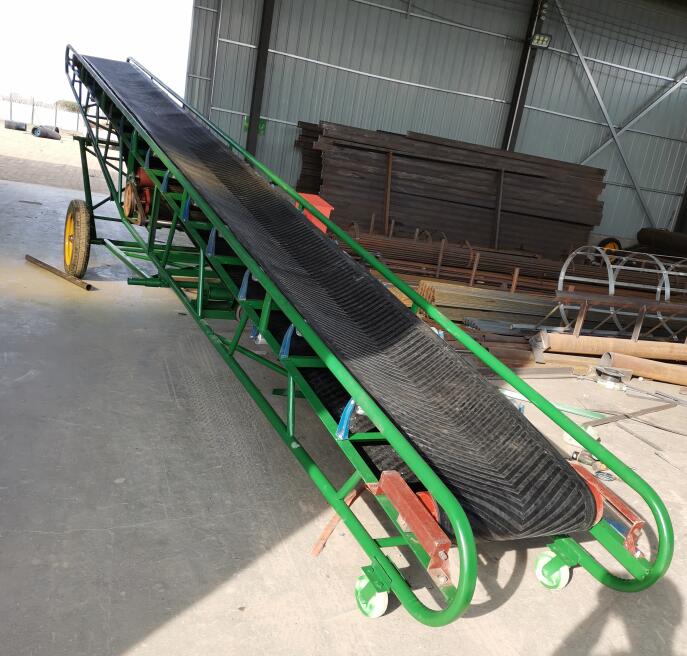 Features of adjustable mobile belt conveyor
Suitable for loading and unloading of bagged and bulk materials.
Height can be adjusted by tilting angle 6 ံ ~ 30 ံ.
Move anywhere easily with tire wheels.
The length and width of the conveyor can be customized.
Has forward and reverse functions.
Efficient operation in warehouse stacking of bagged and bulk materials, saving you labor costs.
Belt conveyors can be used for trough or flat conveying.
If necessary, it can be enclosed to protect it from rain.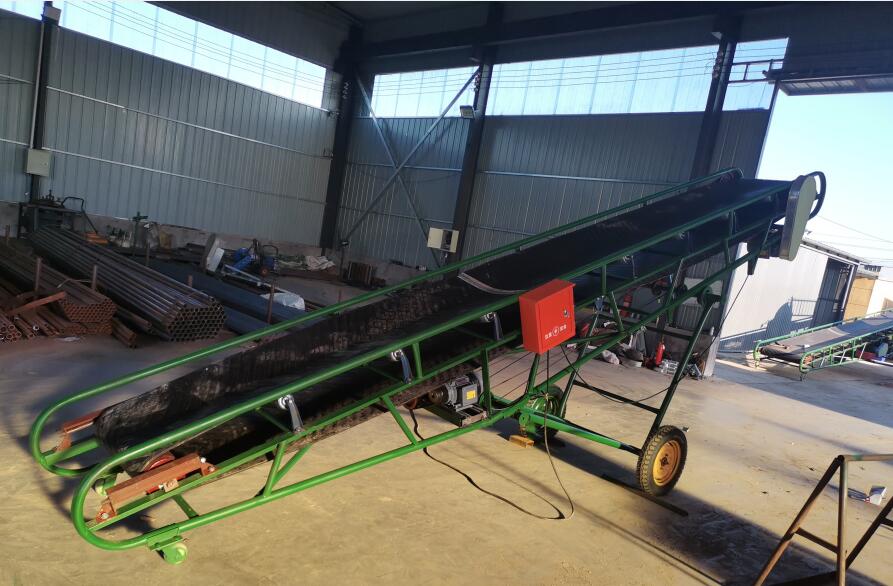 Why choose a portable belt conveyor
conveyor
With polyester canvas, nylon canvas and wire rope as the skeleton.
The conveyor belt has good impact resistance and high tear strength.
Belts are fatigue and impact resistant.
The conveyor belt has good groove formation and low elongation.
It has good thermal stability under the same size specification.
The conveyor belt has high wet strength.
pulley
High surface friction coefficient;
Automatic welding machine for outer ring seam with pulley;
Suitable for belt conveyors with high environmental humidity and long conveying distance;
New technology of housing ball bearing;
Hydraulic symmetrical three-roll plate rolling machine;
Automatic welding machine for inner ring seam of pulley.
Roller
Various sizes of steel rolls are supplied to meet customer requirements.
Automatic simultaneous welding and CNC milling of bearing housings.
Adopt international brand precision deep groove ball bearings.
Unique labyrinth seal design, absolutely waterproof/dustproof.
Total indication runout (TIR) is low and vibration is low.
Ensure long life operation.
tensioner
Screw-type or hammer-type tensioner.
The tensioning wheel is a tensioning roller or a tensioning sprocket.
Indoor or outdoor applications.
The conveyor belt is widely used in metallurgy and coal industry to transfer sandy or lump material or packaged materials. According to different transferring equipment, the transfer system can be one independently or multi-conveyors or combined with other transfer equipments. The coal mine conveyor belt can be installed horizontally or aslope to meet the needs of different transfer lines.
Mining, stope, agriculture, medicine, metallurgy, chemical and other factories.
Parameters
Belt width(mm)
Belt Length(m) and Power(kw)
Belt speed(m/s)
Belt amounts(t/h)
400
≤12
12-20
20-25
1.3-1.6
40-80
1.5
2.2-4
3.5-7.5
500
≤12
12-20
20-30
1.3-1.6
40-80
3
4-5.5
5.5-7.5
650
≤12
12-20
20-30
1.3-1.6
131-323
4
5.5
7.7-11
800
≤6
6-15
15-30
1.3-1.6
278-546
4
5.5
7.7-15
1000
≤10
10-20
20-40
1.3-2.0
435-853
5.5
7.5-11
11-12
1200
≤10
10-20
20-40
1.3-2.0
655
If you are interested in our products or want to know more information, please contact us.