Feb. 28, 2020
Hebei Hengguang conveyor machinery Co., Ltd. as a professional manufacturer of belt conveyor, with rich experience and complete specifications, is recognized by customers. So, what are the advantages of Hengguang belt conveyor?

Reliable operation. Belt conveyors are used in coal transportation in power plants, bulk materials transportation in steel plants and cement plants, and ship loading and unloading in ports. The conveyors selected in these occasions must be reliable in performance and stable in operation. If they are shut down, the loss will be huge.
It is flexible and adaptable to transmission lines. According to the requirements of the technological process, the length of the line is determined according to the needs. It can be several meters short and more than 10km long. It can be installed in a small tunnel, or it can be erected over the ground traffic chaos and dangerous areas, and it can receive materials from one or more points. It can also discharge materials to multiple points or several sections. The materials can be simply discharged from the head of the conveyor, and can also be discharged at any point in the length direction of the conveyor belt through a plow type discharger or a mobile discharger.
Low power consumption. As there is almost no relative movement between the material and the conveyor belt, not only the running resistance is small, but also the abrasion and breakage of the cargo are small, and the productivity is high. All of these are conducive to reducing production costs.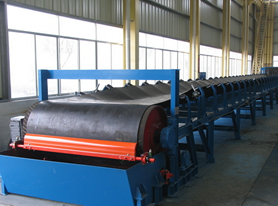 Belt Conveyors