Notes:
Cotton/Nylon/EP/Steel Cord
Cleat

made of enforced fabric, solid, anti-shock to avoid distortion
Types: T, TS, C, TC and TCS

"TS" and "TCS" are normally used for abrasion condition

"T" and "TS" are normally used up to 40 degree

"TC" and "TCS" are normally used from 40 degree to 90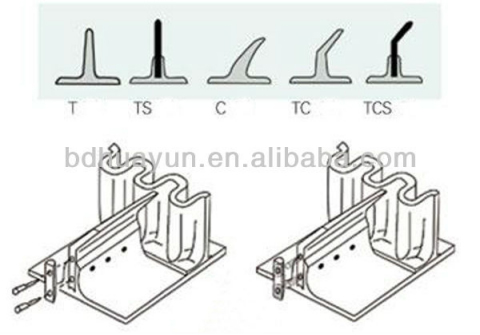 Sidewall Conveyor Belt Features
a) increases the transmission angle (30 to 90 degrees);

b) small footprint, low investment;

c) throughput, a high degree of upgrading higher;

d) to tilt from horizontal (or vertical) to a smooth transition;

e) sala for easy transportation of powdery, granular, small block, paste and liquid-like materials;
f) low consumption, simple structure, belt high strength, long service life.
Applications
Coal-fired and wood chip power plants
Underground mining (coal and ore)
Shaft conveying for tunnelling and underground mining
Steel industry
Ship loading and unloading, ship-to-ship loading
Sand preparation for foundries
Silo feeding
Slope conveying for open pit mining
Waste recycling, soil purification and water treatment
Handling large material flows in horizontal paths
Advantages
- No transfer points from the inlet hopper to the discharge point
- Higher handling capacity
- No material spillage
- Minimal maintenance
- Maximum space utilization
- Low power requirements
The parameter relationship of the base belt width and flange height is as the following table(mm):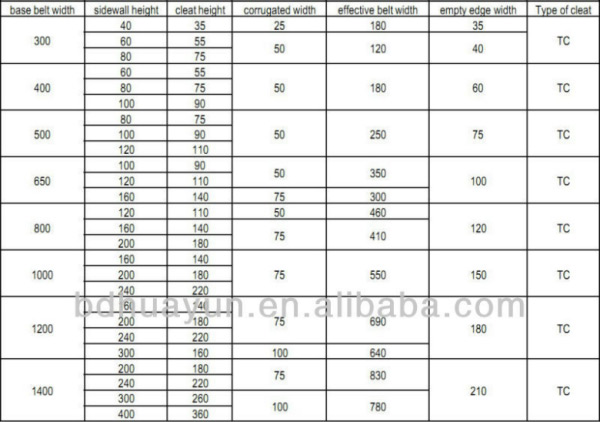 Sidewall Conveyor Belt Pecifications:

a) Core Material: Nylon/EP/Cotton/Steel cord

b) Width of base belt : 300 mm-1400mm

c) No. of fabric plies: 2-10

d) Plastic cover: Face:1.5-8 mm non-Face: 0 mm-4.5mm

e) Standard: DIN22102, BS490, AS1332, RMA, JISK6322, SABS1173

If you are interested in our products, or would like more information, please contact us.